media
the good news
Yoga and choosing a more conscious lifestyle is the fastest growing trend across the world. Yogamint supplies easy to implement tips for our readers to help them eat better, move better, think better and live fuller, richer lives. Yogamint is for everyone, everywhere, even for those who have never laid a mat down in a yoga class.
Newsletter
Our twice weekly e-newsletters serve up short, sweet and deliciously useful bits of information mined from sources ranging from timeless yogic teachings to alternative healing practices to remedies your great-grandmother might have passed down. These "mints" provide tips on how to get those kinks out of your neck after a long day of hunching over a computer or get that deeply rejuvenating sleep you've been craving in an all-natural way.
Website
The Yogamint website features a variety of articles written on subjects from nutrition to astrology to natural childbirth. To keep things lively we also include entertaining and instructional video clips, as well as our picks for enlightening books, movies and events happening locally and around the planet.
One More Thing
We at Yogamint think it's super important that our readers have a good time; that each individual experience joy on an ongoing basis. That's why our "mints" are always fresh, friendly and full of light!
Have a Newsletter, Website or Blog...?
If you have a yoga or healthy lifestyle website or blog and are looking to provide more valuable content for your readers, scroll on down the page for an assortment of our beautiful Yogamint banners (sizes galore) and the fun and inviting Yogamint widget. Pick what you like and take it home with you. We'd love it if you'd drop us a line so we can Thank You for doing so! You can also receive our monthly Mint Your Blog newsletter with updates on the latest mints, articles and videos to hit the Yogamint pages. Just Sign Up below and you'll be added to the list. It's free and easy - just the way you like it.

We're more than happy to provide additional fresh and enriching information about what we're up to here at Yogamint, so don't hesitate to contact us.

Karta Purkh Kaur
Public Relations Manager
media@yogamint.com
865-567-2107
download our media kit

Yogamint Media Kit (1672 KB)
mint your blog newsletter sign-up
postcards for your yoga studio or wellness center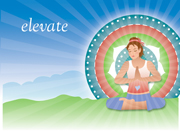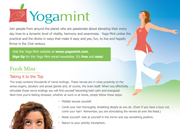 Share these inspiring and frame-able Yogamint postcards (size 5x7 inches) with your students and clients. Simply email us with your name and address (we ship anywhere in the world) and the quantity of cards you'd like us to send. You'll received them in the mail in a jiffy at no charge, of course.


widget & banners for your website or blog
Copy and save the banner size that works for your site and link to http://www.yogamint.com. If you don't see a suitable size contact us and we'll do our best to provide you with the perfect size for your site.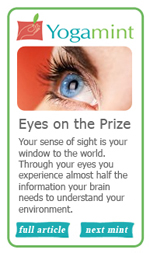 To insert the Yogamint widget - a rotating source of "mints" that is updated regularly - go on over to the Widget Page for the code and instructions on how to place it on your site. (The widget image seen here is a slightly smaller version of the actual down-loadable size of 180x315 pixels.)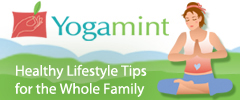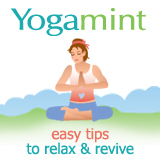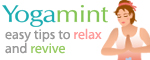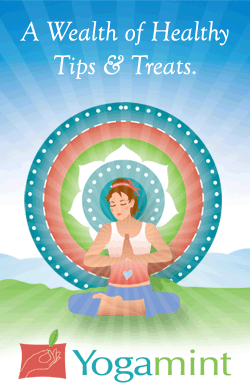 Share our Yogamint-Produced Videos Series' All Kundalini and Food & Flow and post these banners (link as shown).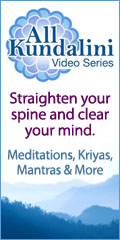 Link All Kundalini banners to:
http://www.yogamint.com/videos/all_kundalini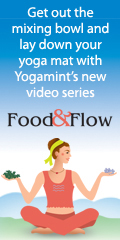 Link Food & Flow banners to
http://www.yogamint.com/videos/foodandflow.