in depth
26-Jun-2011
Your Knowing Breath
Developing Your Intuition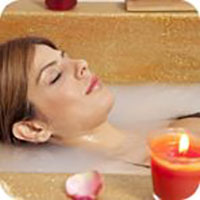 My first yoga instructor taught me that you can't hold fear in your body and breathe long and deep at the same time. When someone asks me how to develop their intuition, I tell them to breathe. When your breath becomes shallow it is usually because you are afraid. This can show up as anxiety, worry, concern, stress, and any number of descriptors for the same thing: fear. When you are afraid you do not hear the voice of your intuition.
The breath controls the mind and the mind controls the body. Slowing the breath to 6-8 breaths per minute, the mind slows down and you start to relax. Through this state of relaxation your inner knowing can be heard. It's not always easy to do. When I'm really in a state of anxiety I have to do some vigorous exercise to get my body and my mind to relax. I like to walk down by the river where I live. Water stills the mind and is a great conductor of intuitive energy. I can gaze out over the water and a natural stillness comes over me.
If you do not have easy access to a natural body of water try this meditation. Fill up your bathtub and place a few drops of lavender oil in the water. Light a candle. The warm water will relax your body and the lavender oil will relax your mind. Start breathing long and deep. You can close your eyes or look lightly at the burning candle. Gently bring forward a question into your conscious mind as you seek inner guidance. Imagine that you are watching the answer come to you on the movie screen of your mind. Relax and watch the movie.
If an answer does not come to you at this time, trust that guidance will come over the course of the next few days. Once you ask a question, the Universe will find the right time and place to show you what you need to know. The key is trusting. For now, just breathe your knowing breath and listen to your heart.
Take It In with this All Kundalini video on the power of the breath
Della McGee
Intuitive Reader, Hands-On Healer, Certified Kundalini Yoga Instructor
Inner Peace Movement Studio
Recommended: Developing Intuition Deck: Practical Guidance for Daily Life
by Shakti Gawain
Navigate Your Day with Grit & Grace
Get a Free Yogi Lifestyle e-Mint, Plus a Twice-Monthly Musing Delivered to Your Inbox