in depth
11-Dec-2011
Yoga Expands Everything
Learn More Than Moves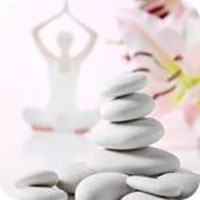 "Self-knowledge is the beginning of self-improvement." - Spanish proverb
The practice of yoga changes your life. Being a teacher of yoga, I've been graciously blessed to witness the powerful shifts that emerge over time for the people I guide. Yoga is more than getting to "advanced" poses or being able to stay balanced longer. It is a practice that surreptitiously ingrains itself in your mind and heart.
Yoga ignites an inner calmness with conscious breathing. As the exterior gets stronger, strength and flexibility goes beyond the flesh. Nature's beauty dominates your vision. Passion for what speaks to your heart is ignited. Purpose of life extends beyond paying the bills. Life falls into place in a magical way full of synchronicity. Life is a dance of moves, choices, challenges, and unexpected gifts. Yoga can help you keep dancing when you don't hear the music.
A beautiful experience of synchronicity manifested at a recent yoga class. I brought a collection of various stones that serve different purposes to class for each student. They each picked one that appealed to them (I told them not to think about it, but just feel which one "spoke" to them). Each student selected their stone and held it during the entire class. When the class was over, I had them read about the purpose of the stone.
As the students read about their stone's purpose, their jaws dropped. A few people had tears well up in their eyes. Not only did each stone coincide with the emotional needs of the person, but the physical needs of each person were in the stone they chose. Each one had felt something inexplicable flow through them during the practice. This class had never been exposed to the spiritual quality of gemstones. Yet, each innately selected exactly what they needed. Nothing happens by accident. Timing is everything.
Expand your expectations. Expand your awareness. Let your practice of yoga open revelations of what resides deep within your cellular structure. It will do its magic, like the stones, and give you exactly what you need when the time is right.
Valerie Goodman
Yoga Teacher (E-RYT), Writer
www.yogarevelation.com
Recommended: The Book of Stones: Who They Are & What They Teach by Robert Simmons and Naisha Ahsian and Living Your Yoga by Judith Lasater
Navigate Your Day with Grit & Grace
Get a Free Yogi Lifestyle e-Mint, Plus a Twice-Monthly Musing Delivered to Your Inbox