Move
08-May-2011
Yoga for the Jet Set
Fitness While Flying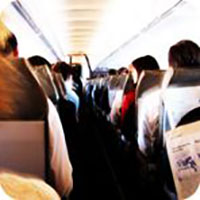 The season of travel is just around the corner, bringing fun and adventure. However, if you're not looking forward to sitting for several hours on a long flight, then airline yoga is just what you need. Here are some simple moves to keep you flexible, energized and your lymph and blood flowing, even while seated in your favorite window seat.
Camel Ride: Scoot forward in your seat and do some spine flexes. Twists: Place your hands on your shoulders and twist, inhaling left and exhaling right. Arm lifts: Adapt some chair yoga postures to stretch your shoulders. Inhale and raise both arms, exhale and bring the hands back to the shoulders. Finish with some slow neck rolls in both directions. After completing the movements, inhale, face forward, close your eyes and breathe slow, long and deep breaths. Don't worry about how you look – your fellow travelers might join you!
Recommended Read: Travel Yoga: Stretches for Planes, Trains, Automobiles, and More!
by Darrin Zeer and Frank Montagna
more mints
10-Jun-2010

It's Not Just a Vitamin!

Vitamin D is amazing. In the 1930's, it helped cure Rickets and forty years later it was re-classified . . .

27-May-2010

Fruits That Make Your Body Happ-P!

This time of year there is an abundance of healthy, delicious options among the precious P's fruits.

13-May-2010

Nutritional Neck Health

It's true. Your diet effects every part of you, even the areas without major organs. The muscles, tendons and ligaments...
18-Jul-2010

The Impact of White

Ever notice that when people who live in equatorial climates dress up nicely, they usually wear white?

08-Jul-2010

Falling for Negative Ions

There is one luxury even the most severe ascetic yogi won't pass up. A waterfall isn't just beautiful.

29-Jun-2010

Purification at All Levels - A Dedicated Email

Sauca --one of five "niyams," or yogic rules, pertains to purification of your body temple. . .
18-Apr-2010

Seeing the Third Eye

Many of the esoteric traditions refer to "the third eye" as the seat of all knowledge.

08-Apr-2010

Aligning Anahat

In every yoga pose, when there is a bend at the hips, the instruction is to "lead with the heart."

25-Mar-2010

Work as Worship

Time is elastic. It contorts itself to perceptions. Sometimes it flies by; sometimes it will never get to 5 o'clock.
15-Jul-2010

Reveal Your Secret Identity

These days, it's really hard to keep secrets. Whether it's the UN, the CIA, or a big bank, someone is letting it slip.

01-Jul-2010

How Giving Comes Around

From the time you were a child, you've been told that volunteering is good for you. And it's true . . .

17-Jun-2010

Kindness, the Key to the Kingdom

Gandhi said it. Dr. Martin Luther King, Jr. said it. The Dalai Lama says it today. Though they use different words . . .
Navigate Your Day with Grit & Grace
Get a Free Yogi Lifestyle e-Mint, Plus a Twice-Monthly Musing Delivered to Your Inbox