Move
08-May-2011
Yoga for the Jet Set
Fitness While Flying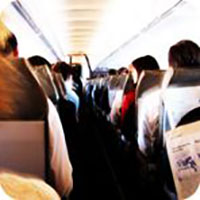 The season of travel is just around the corner, bringing fun and adventure. However, if you're not looking forward to sitting for several hours on a long flight, then airline yoga is just what you need. Here are some simple moves to keep you flexible, energized and your lymph and blood flowing, even while seated in your favorite window seat.
Camel Ride: Scoot forward in your seat and do some spine flexes. Twists: Place your hands on your shoulders and twist, inhaling left and exhaling right. Arm lifts: Adapt some chair yoga postures to stretch your shoulders. Inhale and raise both arms, exhale and bring the hands back to the shoulders. Finish with some slow neck rolls in both directions. After completing the movements, inhale, face forward, close your eyes and breathe slow, long and deep breaths. Don't worry about how you look – your fellow travelers might join you!
Recommended Read: Travel Yoga: Stretches for Planes, Trains, Automobiles, and More!
by Darrin Zeer and Frank Montagna
more mints
23-Sep-2010

A Woman's Friend

The sensitive ecology of a woman's body sometimes gets out of balance. Then her life-quality suffers as she struggles . . .

09-Sep-2010

Fruit Smoothie with a Twist

What's so "cool" about a fruit smoothie? Blender drinks provide a super-simple, healthy treat. Refreshing and delicious, smoothies make...

26-Aug-2010

Dig Those Bioflavonoids

Stop! Don't toss those orange and banana peels in the compost yet. That whitish layer on the inside of the skins is good stuff—
09-Nov-2010

Radiant You Day - A Dedicated Email

Your breath is the energy of life and the source of your radiance and health. Stress, fatigue, and disease can...

28-Oct-2010

Neck-Strengthening Exercise

Ever felt like you're carrying a heavy weight on your shoulders? No wonder--your head weighs 8 to12 pounds...

14-Oct-2010

Wash Your Window

Your face is your grace. As your window to the world, your face telegraphs what's going on inside of you.
29-Aug-2010

Face the Darkness

Much has been written about "the shadow"—that part of the mind that harbors secret plans and motives.

15-Aug-2010

Layers of the Mind

Besides the delicious taste and the numerous health benefits of onions, these root vegetables also . . .

05-Aug-2010

Tattwas and Mental Projection

Thinking about thinking is a perilous prospect. The line between philosopher and madman . . .
21-Sep-2010

Experience Self Gratitude

Have you ever considered why you're here? Why you exist at this time and in this space? Have you ever realized . . .

19-Sep-2010

Take a Break from Cares

Do you remember childhood's carefree moments, when a simple, joyful act was the most important part of your whole day?

07-Sep-2010

Teaching as Transformation - A Dedicated Email

In ancient times, a disciple would study for many years before being granted the blessing of learning a yoga kriya from the master.
Navigate Your Day with Grit & Grace
Get a Free Yogi Lifestyle e-Mint, Plus a Twice-Monthly Musing Delivered to Your Inbox