elevate
11-Aug-2011
Why Worry?
Let Your Troubles Go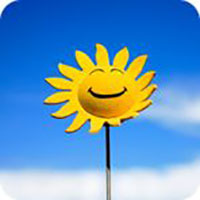 "Don't worry, be happy!" Sounds simple, right? Considering that we have 1,000 thoughts per blink of the eye, maybe letting go of worries needs some special attention. Try this visualization from time to time to help you let go of whatever is weighing you down. Sit down with pen and paper and take a few deep breaths. Write down your present worries, concerns and fears. Don't judge what you are writing, just let loose and write as much detail as you like, for as long as it takes.
When you feel you have emptied your worry vessel, sit back, take a few breaths, close your eyes and focus at your third eye or top of the head. See the beautiful Earth spinning, sailing through space. Expand the view and go beyond our solar system. Then, return to the Milky Way galaxy and back to Earth. Appreciate the amazing beauty, rhythm, flow and energy that you just witnessed. Then take your worry list, honor it and throw it away. Take another deep breath and give thanks for the opportunity to experience this wonderful universe, worry-free!
Recommended: 10 Simple Solutions to Worry: How to Calm Your Mind, Relax Your Body & Reclaim Your Life
by Kevin L. Gyoerkoe
more mints
16-Sep-2012

Savory Squash Seeds

Halloween and Thanksgiving are just around the corner, bringing tasty pumpkin-based foods to your table. Don't...

02-Sep-2012

Body-Friendly Bacteria

When you hear the word "bugs" in relation to your health, it might conjure up visions of the flu or other...

19-Aug-2012

Super-Healing Herb

This tasty green herb puts pizzazz in your salsa and has the power to heal and cleanse your body.
20-Sep-2012

Screen Swami Desktop Yoga - A Dedicated Email

In India, disciples served the teacher ("guru") for many years before learning their first yoga posture.

19-Sep-2012

Move and Groove

In the 21st century, we take mobility for granted as we travel with our cell phones, computers, music and apps on the go.

05-Sep-2012

Pranayama for Relaxation

When Pinocchio needed to call on his conscience, all he had to do was "give a little whistle." It turns out that...
26-Sep-2012

Gotu Kola - The Memory Herb

Elephants are noted for their good memory, perhaps because they frequently eat Gotu Kola leaves. Long revered by yogis in the Himalayas for its purported ability to enhance meditation, the Gotu Kola...

12-Sep-2012

Mind and Meditation

Imagine a river flowing powerfully through the land. Your mind is like that river—carrying your thoughts...

29-Aug-2012

Embracing Solitude

We are, by our very nature, social beings; but sometimes you just need to be alone. Henry David Thoreau said...
23-Sep-2012

Compliment vs. Complaint

Children forget to clean their rooms; bad drivers cut you off the road; co-workers can be insensitive. You might...

09-Sep-2012

Defining the Divine

However you choose to define (or not define) the term "God" it is true that throughout the universe...

26-Aug-2012

Heroism in Daily Life

Heroes are everywhere—they are parents working two jobs to make ends meet. They are firefighters and medical...
Navigate Your Day with Grit & Grace
Get a Free Yogi Lifestyle e-Mint, Plus a Twice-Monthly Musing Delivered to Your Inbox