Move
22-Feb-2012
The Long Stretch
Flex Your Life Nerve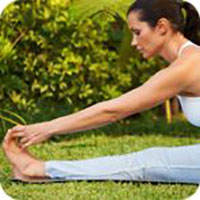 The secret to long life and health is as close as the back of your legs. With the yogic power of Life Nerve Stretch you can maintain flexibility (the key to staying young), as well as give your whole body a tune-up. This nerve runs from the back of the heels, up through the sciatic nerve and through the lower, middle and upper back. Doing this stretch every day gives you a flexible spine, helps with emotional balance and strengthens the digestive system.
To stretch your "life nerve," sit on your mat, inhale deeply and bend forward, grabbing onto your toes. If you can't reach your toes, hold your ankles or knees. Keep the knees on the floor—no bending the knees. Gently stretch your chest down to your knees with long deep breathing, pulling back on the toes, so you can feel the stretch in the back of the legs for 3 minutes. This is a "wonder posture" for women, helping with urinary problems, cold feet, muscle spasms and fatigue. Stretch and flex to stay young and healthy for years to come!

Yogamint Food & Flow video demonstrating Life Nerve Stretch: Limber for Life
Recommended: Full-Body Flexibility by Jay Blahnik and Kundalini Yoga Ultimate Stretch Workout with Ana Brett and Ravi Singh
more mints
14-Mar-2010

Spring Cleaning

Rains come, flowers bloom, birds fly north and the bees get back to their busy, buzzing business. As the seasons change...

28-Feb-2010

Holy Jalapeno!

Ay Chihuahua! For some, jalapenos are just too hot, even though they're considered low on the scales of spicy.

18-Feb-2010

Reduce Acid's Effects

Stress is a fact of life. It literally pressurizes you, increasing the body's acidity.
09-May-2010

See the World at a Slower Pace

Rush, rush, go, go, speed of light, time's a wastin'…Whoa! Take a breath and take a walk.

04-May-2010

Soak in the Heat of Mother Earth - A Dedicated Email

Iceland is in the news again and, as usual, the reason is volcanic. But one eruption is nothing . . .

25-Apr-2010

Bundle Roll Your Infant

Swaddling, or what's called "bundle roll" in Yogic teachings, is an age old technique for helping create calm . . .
24-Jan-2010

Is It True?

These days more and more people understand the simple fact that "Truth" is almost always relative.

14-Jan-2010

Shake Things Up

Here we go again! The rat race, the hamster wheel, the not-so-merry-go-round - over and over again.

20-Dec-2009

Make a Gratitude List

So many problems, worries, and challenges, it piles up fast! That overwhelmed feeling is a signal...
29-Apr-2010

Let It Come to You

It seems like every time you move a couple of steps forward, you get knocked a step back.

20-Apr-2010

3HO's Summer Solstice Sadhana Celebration - A Dedicated Email

On the Solstice the sun is at its apex and that has myriad meanings for the world's cultures. The light of the sun . . .

13-Apr-2010

Sacred Sounds Retreat with Sada Sat- A Dedicated Email

Everything in the universe vibrates, and every cell in our body resonates with sound.
Navigate Your Day with Grit & Grace
Get a Free Yogi Lifestyle e-Mint, Plus a Twice-Monthly Musing Delivered to Your Inbox