Move
22-Feb-2012
The Long Stretch
Flex Your Life Nerve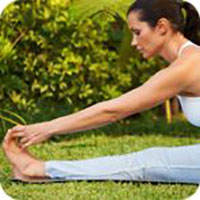 The secret to long life and health is as close as the back of your legs. With the yogic power of Life Nerve Stretch you can maintain flexibility (the key to staying young), as well as give your whole body a tune-up. This nerve runs from the back of the heels, up through the sciatic nerve and through the lower, middle and upper back. Doing this stretch every day gives you a flexible spine, helps with emotional balance and strengthens the digestive system.
To stretch your "life nerve," sit on your mat, inhale deeply and bend forward, grabbing onto your toes. If you can't reach your toes, hold your ankles or knees. Keep the knees on the floor—no bending the knees. Gently stretch your chest down to your knees with long deep breathing, pulling back on the toes, so you can feel the stretch in the back of the legs for 3 minutes. This is a "wonder posture" for women, helping with urinary problems, cold feet, muscle spasms and fatigue. Stretch and flex to stay young and healthy for years to come!

Yogamint Food & Flow video demonstrating Life Nerve Stretch: Limber for Life
Recommended: Full-Body Flexibility by Jay Blahnik and Kundalini Yoga Ultimate Stretch Workout with Ana Brett and Ravi Singh
more mints
12-Aug-2010

A Slice of Summer Health

There's so much to be said for watermelon's cooling effects. On hot summer days, the water it stores, along with its natural sugars...

01-Aug-2010

Iced Peppermint Tea

One of the most refreshing drinks of all time is iced peppermint tea. Keep this favorite in your fridge all summer long!

25-Jul-2010

And the Antioxidant Vegetables!

One of the more curious facts of life on earth is buried in the crucial role of oxygen.
30-Sep-2010

Strengthen the Solar Plexus

Seasons change, bringing adjustments to the body's chemistry. Your body knows how to prepare for these changes by...

16-Sep-2010

Take it to the Lawn

There's nothing like walking barefoot on a cool patch of green grass. That's because your feet are the endpoints for. . .

02-Sep-2010

Gyan Mudra

The most common mudra practice in all of yoga is Gyan Mudra. Generally speaking, in the break between postures -
22-Jul-2010

Intermission from Stress

Sometimes you just wanna scream! Life is full of responsibilities, needs, worries, demands on your time . . .

04-Jul-2010

Eleven Minute Lullaby

When you lie down for your nightly sleep, what gets in the way? Usually, it comes down to excess mental activity.

24-Jun-2010

Positive, Negative, Neutral

Yogis understand that a human has not one, but three functional minds. They work in a specific order . . .
05-Sep-2010

Affirm Your Energetic Best

What is the soul? It's pretty mysterious. For awhile, back in Enlightenment-era Europe, it was thought to be a little node . . .

22-Aug-2010

Don't Play the Ego Game

In every situation in life, you have a choice. Whether deciding on what to have for lunch or . . .

17-Aug-2010

Remedy for Life

Spiritually and psychologically, did you know that the root of human malady emerges from . . .
Navigate Your Day with Grit & Grace
Get a Free Yogi Lifestyle e-Mint, Plus a Twice-Monthly Musing Delivered to Your Inbox