Move
25-Jul-2012
Stretch Your Horizons
Navel Point Yoga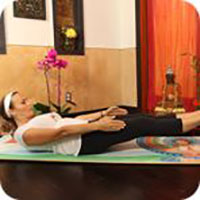 The ancient yogic scriptures claim that all yoga begins at the navel point. The navel is not just a point; it is a center of energy transformation in the body. The navel is the junction of 72,000 nerves in the body, so practicing stretch pose is a tune-up for your entire nervous system. Doing stretch pose first thing in the morning is highly recommended, as it adjusts your navel point and supports deep meditation. It also strengthens the reproductive system, the seat of your creativity and productivity.
Lying on your back with your legs straight and heels touching, lift your head and heels about six inches off the ground. Focus your attention on your toes. The arms are held straight at your sides, palms facing the thighs, but not touching. Hold this position and begin breath of fire, by powerfully exhaling through your nose while pumping the navel. The inhale will come naturally as you concentrate on the navel pump. Start with 1 minute and work up to 3 minutes. Stretch pose—a powerful way to start your day!

Advanced Abdominal and Navel Strengthening Kriya (417 KB)
Stretch Pose demonstrated: Wake Up - Warm Up
Recommended: Shiva Rea – Creative Core Abs (DVD)
more mints
24-Jun-2012

Boost Your Salad IQ

Whether you enjoy a simple side plate of lettuce at dinner or a robust "all-in" kind of salad as a main dish...

10-Jun-2012

Patties with Pizzaz

There's something about a veggie burger that says summer, backyard barbeque, casual living and a great...

27-May-2012

Vanilla's Wondrous Ways

A gift from Mexico—the vanilla orchid—yields the aromatic pods that have given the world the...
11-Jul-2012

Help for Headaches

You know the feeling…a headache in the making. One of the most common causes of headaches is stress.

27-Jun-2012

Water as Therapy

Summertime—it's a great time to get in the swim with some water "therapy." Swimming offers so many...

13-Jun-2012

Arnica to the Rescue

Whether you're a highly trained athlete, a yogi, gardener or an inquisitive three-year old, you're...
04-Jul-2012

Kava for Relaxation

The Pacific Islanders have a secret weapon for mental stress. The kava root has been cultivated for...

20-Jun-2012

Expanding Your Vision

From birth, you are intimately drawn into the world around you through your eyes. Colors, light, movement...

06-Jun-2012

Fitness for the Mind

The mind is a great tool. We use our brains to calculate, communicate and process thousands of ideas...
01-Jul-2012

Building a Reputation

You are a force field—a walking, talking, vibrating being. Your energy patterns leave an imprint wherever...

17-Jun-2012

Color Me Creative

Purple is a potent color, worn by royalty to symbolize their magnificence. Yogically speaking, purple is...

03-Jun-2012

What Children Teach Us

Spending time with children is a perfect opportunity to see the world from a more open and unrestricted...
Navigate Your Day with Grit & Grace
Get a Free Yogi Lifestyle e-Mint, Plus a Twice-Monthly Musing Delivered to Your Inbox