Move
25-Jul-2012
Stretch Your Horizons
Navel Point Yoga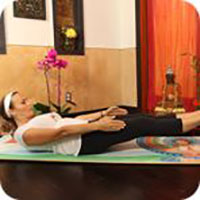 The ancient yogic scriptures claim that all yoga begins at the navel point. The navel is not just a point; it is a center of energy transformation in the body. The navel is the junction of 72,000 nerves in the body, so practicing stretch pose is a tune-up for your entire nervous system. Doing stretch pose first thing in the morning is highly recommended, as it adjusts your navel point and supports deep meditation. It also strengthens the reproductive system, the seat of your creativity and productivity.
Lying on your back with your legs straight and heels touching, lift your head and heels about six inches off the ground. Focus your attention on your toes. The arms are held straight at your sides, palms facing the thighs, but not touching. Hold this position and begin breath of fire, by powerfully exhaling through your nose while pumping the navel. The inhale will come naturally as you concentrate on the navel pump. Start with 1 minute and work up to 3 minutes. Stretch pose—a powerful way to start your day!

Advanced Abdominal and Navel Strengthening Kriya (417 KB)
Stretch Pose demonstrated: Wake Up - Warm Up
Recommended: Shiva Rea – Creative Core Abs (DVD)
more mints
16-Aug-2009

Peel off the Summer Heat

When the summer sun pushes the temperature outside your body up or even beyond the temperature within it...
05-Nov-2009

Bouncing Into Bliss

How about this for a saying? "An ounce of bounce cures pounds of pounding!" You pound yourself constantly...

24-Oct-2009

The Surprising Spring of Winter Warmth

The idea of a cold shower is anathema in the West. In the realm of popular ideas, it is generally only thought of as...

11-Oct-2009

Do as the Dervishes

"Sufi Grind", a simple exercise named for a peaceful, mystic sect of Islam, is a quick and easy way to bring your mind into focus...
17-Nov-2009

Sacred Chant Retreat - A Dedicated Email

The human voice is a many-splendored thing. It's cosmic. When your favorite singer holds a note, all the forces...

08-Nov-2009

Seeing It as a Journey

Every culture has its version of a pilgrimage, or yatra. Whether the journey is from childhood to adulthood...

17-Oct-2009

Better Know a Mudra

Every statue or painting depicting a deity from the East has one shared characteristic...
Navigate Your Day with Grit & Grace
Get a Free Yogi Lifestyle e-Mint, Plus a Twice-Monthly Musing Delivered to Your Inbox