Move
15-Dec-2011
Fueling the Fire
Warming Yogic Tips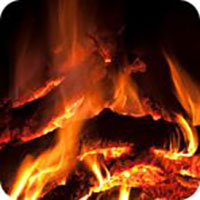 Trying to stay warm this winter? You could snuggle all day under a blanket or wear several layers of clothing to ward off the chills. You could also do yoga to help fuel the fires, keeping you warm, ridding the body of toxins (especially if you tend to be more sedentary in the cold) and helping your body deal with the seasonal tendency to want to hibernate. So how do you heat the body with yoga?
Breath of Fire pranayama is a natural internal heater. You can even use it as a survival tool if you are caught out in the cold and need to stay warm. Pumping the navel helps keep the digestive fires stoked, as does pulling root lock (mul bhand). First thing in the morning doing a vigorous yoga set gets your blood circulating and helps regulate your body temp throughout the day. Finally, don't neglect those cold showers for some yogic hydrotherapy. Now is the time to warm up with some yogic fire and enjoy the beauty of the winter wonderland!

Fire Kriya (1119 KB)
Recommended: Autumn, Winter, Spring, Summer: Yoga Through the Seasons
by Sandra Savatini and Shiva Rea: Sun Salutations
(DVD)
more mints
17-Dec-2009

Graze Don't Gobble

At your next meal, even if it's just a quick lunch on the go, take a moment to act as if you are having a feast.

29-Nov-2009

Got Truth?

They say the gods live in a land of milk and honey. But what kind of milk? We are the only species that drinks the milk of...

19-Nov-2009

Yummy Yogi Yams

The truth is, there's really no way to improve a sweet potato or yam. Whether you prefer one or the other...
07-Mar-2010

Lion's Claw Breath

It's no longer the stuff of etheric New Age types. Science has concluded, by measuring the electromagnetic frequencies surrounding...

25-Feb-2010

Lock Into Your Core Identity

Wherever you are, in public or in private, in whatever social setting, you always have one . . .

07-Feb-2010

Wake Up Stretches in Bed

Waking up can be hard to do. But between the moments you awake and when you get up to brush your teeth...
28-Oct-2009

Let Music Tame the Monkey Mind

Sometimes it's tough to chill out. Stress comes at you from work, from family and from yourself...

15-Oct-2009

Clarify for Contentment

The Buddha's second teaching is that the root of suffering is desire. In other words, it's perfectly natural to want things...

24-Sep-2009

Then Give Thanks

One of the most powerful success strategies, borrowed from the Bible, science of mind and popular motivational speakers is...
18-Mar-2010

Growth from Injury

The Buddha said it first: everybody hurts. But he also went a step further, saying the source of suffering is desire.

04-Mar-2010

See It, Share It Clearly

The English word "martyr" is identified with all sorts of suffering. But its root is a Greek word that means. . .

14-Feb-2010

Experience is the Best Teacher

While you're sleeping, the brain is already on, processing thoughts from the subconscious.
Navigate Your Day with Grit & Grace
Get a Free Yogi Lifestyle e-Mint, Plus a Twice-Monthly Musing Delivered to Your Inbox