eat
21-Jul-2011
A Plot of Your Own
Plant a Summer Garden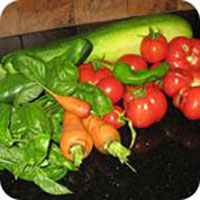 Growing a garden is one of life's pleasures. The joyful work of preparing the soil, planting and watching as those delicate, determined seedlings push up out of the ground makes for even more enjoyment as you sit down to eat your salad or veggie stir-fry. Gardening is not only a form of relaxation and connection with the source of your food, but provides a bounty of healthy, organic produce grown in soil rich with minerals, vitamins, phytochemicals, antioxidants and chlorophyll.
Gardening can be a family project, as simple as cultivating cherry or pear tomatoes in a pot on your porch or leafy greens, beets and herbs in raised beds, all within picking distance of your dinner table. Whether you live in an apartment or in the suburbs, you don't have to forego the pleasures of eating food that tastes better (and has more nutritional value) than most store-bought produce. Why not get out the hoe and dig up a little plot of your own and enjoy a bountiful summer harvest!
Recommended: I Garden - Urban Style
by Reggie Solomon
more mints
14-Mar-2010

Spring Cleaning

Rains come, flowers bloom, birds fly north and the bees get back to their busy, buzzing business. As the seasons change...

28-Feb-2010

Holy Jalapeno!

Ay Chihuahua! For some, jalapenos are just too hot, even though they're considered low on the scales of spicy.

18-Feb-2010

Reduce Acid's Effects

Stress is a fact of life. It literally pressurizes you, increasing the body's acidity.
09-May-2010

See the World at a Slower Pace

Rush, rush, go, go, speed of light, time's a wastin'…Whoa! Take a breath and take a walk.

04-May-2010

Soak in the Heat of Mother Earth - A Dedicated Email

Iceland is in the news again and, as usual, the reason is volcanic. But one eruption is nothing . . .

25-Apr-2010

Bundle Roll Your Infant

Swaddling, or what's called "bundle roll" in Yogic teachings, is an age old technique for helping create calm . . .
24-Jan-2010

Is It True?

These days more and more people understand the simple fact that "Truth" is almost always relative.

14-Jan-2010

Shake Things Up

Here we go again! The rat race, the hamster wheel, the not-so-merry-go-round - over and over again.

20-Dec-2009

Make a Gratitude List

So many problems, worries, and challenges, it piles up fast! That overwhelmed feeling is a signal...
29-Apr-2010

Let It Come to You

It seems like every time you move a couple of steps forward, you get knocked a step back.

20-Apr-2010

3HO's Summer Solstice Sadhana Celebration - A Dedicated Email

On the Solstice the sun is at its apex and that has myriad meanings for the world's cultures. The light of the sun . . .

13-Apr-2010

Sacred Sounds Retreat with Sada Sat- A Dedicated Email

Everything in the universe vibrates, and every cell in our body resonates with sound.
Navigate Your Day with Grit & Grace
Get a Free Yogi Lifestyle e-Mint, Plus a Twice-Monthly Musing Delivered to Your Inbox