eat
21-Jul-2011
A Plot of Your Own
Plant a Summer Garden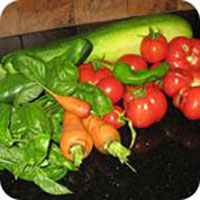 Growing a garden is one of life's pleasures. The joyful work of preparing the soil, planting and watching as those delicate, determined seedlings push up out of the ground makes for even more enjoyment as you sit down to eat your salad or veggie stir-fry. Gardening is not only a form of relaxation and connection with the source of your food, but provides a bounty of healthy, organic produce grown in soil rich with minerals, vitamins, phytochemicals, antioxidants and chlorophyll.
Gardening can be a family project, as simple as cultivating cherry or pear tomatoes in a pot on your porch or leafy greens, beets and herbs in raised beds, all within picking distance of your dinner table. Whether you live in an apartment or in the suburbs, you don't have to forego the pleasures of eating food that tastes better (and has more nutritional value) than most store-bought produce. Why not get out the hoe and dig up a little plot of your own and enjoy a bountiful summer harvest!
Recommended: I Garden - Urban Style
by Reggie Solomon
more mints
11-Jul-2010

Natural Electrolyte Sources

When it's this hot out, it's good to know the human body is made to withstand it. Water helps and there are all kinds...

07-Jul-2010

Connect to the Source of Your Food - A Dedicated Email

Over the last 40 years, the Fair Trade movement has blossomed from a few tiny "worldshops" selling . . .

20-Jun-2010

C the Possibilities

Besides being amazingly tasty and totally, incredibly healthy, the luscious grapefruit offers . . .
19-Aug-2010

Ten Minutes to Greatness

You're a valuable person at home and in the workplace. Others depend on you. Others depend on you.

10-Aug-2010

The Art of Wool

The ancient art of felting wool has existed for as long as yogic and meditation practices.

29-Jul-2010

Yogic Chin Lock

Very often, if not always, yoga has an emphatic focus on the movement of the spine.
06-Jun-2010

Go Tell it on a Mountain

Summer's coming up and for many that means a trip to the beach. But another option, one that cools you just as well, but has added yogic benefits. . .

23-May-2010

What You Say Happens

In Physics and Cognitive Science, there are innumerable examples that show how the subjectivity. . .

02-May-2010

Making Sattva Last

There's nothing like that feeling: you've given your all and, completely spent, you wake from the post-effort nap totally refreshed.
08-Aug-2010

Ask Your Heart

Even before the Middle Ages, alchemists were often obsessed with finding the Philosopher's Stone.

03-Aug-2010

Grow Your Business, Grow a Tree - A Dedicated Email

A single, mature leafy tree produces enough oxygen to keep ten people breathing for more than a year.

20-Jul-2010

Let Your Being Shine - A Dedicated Email

When you embellish your personal environment with sacred objects, you are following an age-old tradition . .
Navigate Your Day with Grit & Grace
Get a Free Yogi Lifestyle e-Mint, Plus a Twice-Monthly Musing Delivered to Your Inbox