in depth
17-Jun-2012
Summer Splendor
Very Berry Dessert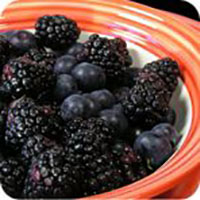 Berries are the quintessential summer food. Their bright colors and lovely sweet flavors make them seem like Mother Nature's candy. Unlike candy, though, berries are good for you. They are low in calories and contain good doses of both Vitamin C and fiber.
When fresh berries are in season in your area, you can freeze them to savor their natural sweetness all year long. To keep them from sticking together, place gently washed berries on a baking sheet in the freezer for a couple of hours. Once they are frozen, transfer them to freezer bags for storage.
Six delicious ways to enjoy berries:
Top hot or cold cereal with fresh berries for a breakfast treat
Blend berries with almond milk, honey (or agave nectar), and a small handful of spinach for a healthy and delicious smoothie
Layer fresh berries with yogurt and granola for a light parfait
Top whole grain pancakes or waffles with berries (fresh or warmed with a little orange juice for a light sauce)
Bake berries into muffins or quick-breads for healthy snacking
Make cobbler!
This vegan blackberry cobbler is low in sugar, making it a light dessert or even a delightful breakfast treat served with yogurt.
Vegan Blackberry Cobbler
4-5 C fresh blackberries
1 T cornstarch or arrowroot powder
1/2 C organic sugar, divided
1 tsp orange zest
1 C whole-wheat flour
2 tsp baking powder
1/4 C non-hydrogenated margarine (or butter), melted
1 C non-dairy milk
1/4 tsp almond extract
1/4 tsp vanilla extract
Preheat oven to 375 degrees F (190 degrees C). Gently combine blackberries, ¼ C sugar, cornstarch or arrowroot powder and orange zest; set aside. In another bowl, combine the remaining ingredients. Whisk to combine well but don't over-mix.
Lightly grease an 8 x 8 or 9 x 9 baking dish (or deep dish pie or casserole dish). Pour batter into prepared pan, then pour the berries over the top (do not stir—the cake will puff up around the berries as it bakes). Bake for 45 minutes or until golden brown.
Allison Brewer
Mother of two, writer, vegetarian, and aspiring triathlete
Getnatured.com
Recommended: Seasonal Fruit Desserts: From Orchard, Farm, and Market by Deborah Madison
Navigate Your Day with Grit & Grace
Get a Free Yogi Lifestyle e-Mint, Plus a Twice-Monthly Musing Delivered to Your Inbox