in depth
06-May-2012
Spring in Your Step
Nature's Veggie Bounty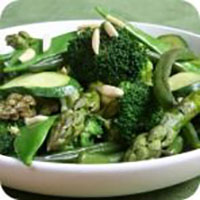 Spring has sprung and after a long, cold winter your metabolism might be in need of a little boost. Most folks spend the winter hunkered down eating heavier, fattier foods. Since the holidays fall in the middle of winter, it's usually an excuse to let our healthy eating go out the window.
Well, the sun is shining again and it's time to dust off your juicer, hit the farmers' markets and take advantage of all the delicious spring produce that is in full bloom. Some of my favorite springtime foods are snap peas, artichokes and asparagus.
All of these foods are great for cleansing, especially for your hard-working liver and kidneys—two of the main detox organs in our body. According to Chinese Medicine, these are the organs that are related to the season of spring.
Asparagus is an anti-inflammatory, protecting against cancer with its high folate content and aiding in detoxifying the body. Artichokes are loaded with fiber—great for lowering cholesterol. A naturally occurring chemical in artichokes may be responsible for lowering blood fats and is a great food to add to your diet.
Lastly, snap peas, which are also high in fiber, add some sweet, juicy crunch to a stir-fry or salad. They are a good source of immune-boosting Vitamin C, as well as Vitamin K, to help retain calcium in your bones.
It's time to head to your fresh produce market to add these spring beauties to your diet—and nourish your body back to life!
Black Sesame Garlic Snap Peas
½ lb. sugar snap peas, ends trimmed and strings removed
1 T toasted sesame oil
2 cloves garlic, minced
¼ - ½ tsp crushed red pepper flakes
1 T black sesame seeds (or white unhulled)
Sea salt, to taste
In a large sauté pan, heat sesame oil over medium heat and sauté garlic and red pepper flakes until garlic is soft. Add snap peas and sauté for about 4-5 minutes until starting to soften, but still crispy and bright green. Do not overcook. Toss in sesame seeds and season with sea salt. Serve immediately.
Melissa Costello
Healthy Food Chef, Founder of Karma Chow, Author of The Karma Chow Ultimate Cookbook: 125+ Delectable Plant-Based Vegan Recipes for a Fit, Happy, Healthy You
Yogamint Food & Flow Chef
Yogamint videos on Healthy Eating
Recommended: 1,000 Vegan Recipes by Robin Robertson
Navigate Your Day with Grit & Grace
Get a Free Yogi Lifestyle e-Mint, Plus a Twice-Monthly Musing Delivered to Your Inbox