in depth
11-Mar-2012
Postpartum Palate
Nutrition for New Moms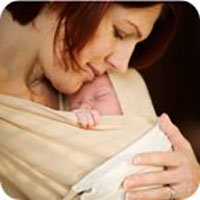 Following one of the most amazing, exhausting, and transformational life events a woman can experience, a new mother is in special need of highly nutritious, healing foods. She is recovering from birth, adjusting to less sleep, giving constant care and nourishment to the newborn, and processing a whole new way of life. This is a woman who needs to be well fed!
Helpful Foods — Simple, whole foods with high nutritional value are ideal choices for new mothers. Fruits, vegetables, milk (dairy or almond), nuts and grains are basic foods to include. There are several yogic foods that are suggested especially for postpartum healing, including Ginger Curry, as well as Mung Beans and Rice loaded with fresh vegetables to provide easy-to-digest protein and nutrition.
Homemade tapioca pudding is a yummy treat that aids digestion and healing as well. Unpeeled, fresh almonds sautéed in ghee and eaten with a touch of honey before breakfast help the uterus heal. Easy snacks like smoothies and trail mix are great to have on hand. New mothers should also drink plenty of water and Yogi Tea.
Foods to Avoid — In addition to refraining from unhealthy, processed or fast foods, it is important for mothers who are breastfeeding to avoid foods that can be gas-producing in the sensitive system of the infant. Hot spices, raw onions and garlic, cabbage, beans and chocolate are all common culprits for causing gas in babies.
Care and Feeding of New Mothers — In the 40 days postpartum, it is recommended that a mother rest, heal and simply be with her baby. It is a wonderful service for friends and family to prepare meals for the new parents and to make sure those needs are covered.
Special Nursing Drink — This recipe is a delicious Kundalini Yoga recipe to support breastfeeding and postpartum recovery. It can be taken daily during the 40 days postpartum.
Blend the following:
6 oz. Milk (dairy or almond)
6-8 blanched almonds (soaked and peeled)
2 T ghee
1-2 tsp honey
Eat well, be well and enjoy this blissful time of new motherhood!
Kewal K. Khalsa
Mother, Birth Doula, & Yoga Teacher
www.YogaAndBirth.com
Recommended: The Nursing Mother's Herbal by Sheila Humphrey and The Vegetarian Mother's Cookbook: Whole Foods To Nourish Pregnant And Breastfeeding Women - And Their Families
Navigate Your Day with Grit & Grace
Get a Free Yogi Lifestyle e-Mint, Plus a Twice-Monthly Musing Delivered to Your Inbox