in depth
16-Sep-2012
Coming of a Soul
Celebrating New Life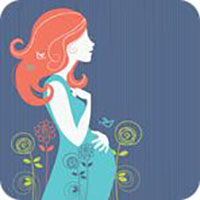 The coming of a new baby is a joyous time full of hope and promise. Each culture finds ways to celebrate this event. In the Kundalini Yoga tradition, the 120th day of pregnancy is a time of significance and celebration. It is believed that at this time the soul enters the body of the child forming in the womb.
On the 120th day after conception, a woman is honored as she begins the journey to motherhood, the baby's soul is welcomed and the family is held in loving support by their community. A beautiful celebration sets the tone during this time as a way to prepare the mother and family for this time of transition. Celebration for this special day is focused around the mother, as she is taking on the responsibility and blessing of carrying and birthing the child into being.
At a typical 120th day celebration (akin to a Navajo blessingway initiation for a mother-to-be), the father or partner, friends, family and community come together to honor her. Food is shared, the environment is made beautiful with flowers and music and often a meditation is done. Chants like Adi Shakti or Pootaa Maataa Kee Aasees are popular choices. The Adi Shakti mantra connects the mother to her innate, primal power as the feminine vessel of creation. Pootaa Maataa Kee Aasees invokes a sense of prayer and protection for the child.
Often the mother is gifted with presents that serve to uplift and nurture her specifically. This gifting is different than a baby shower with gifts for the baby; these offerings are meant to recognize the mother and shower her with appreciation. She is surrounded by prayers and wishes for her physical, mental, emotional, and spiritual well-being—as through her this child will learn about the world even before birth.
The 120th day after conception not only marks the arrival of the child's soul, it acknowledges the making of a mother. As Yogi Bhajan said, "Mother becomes mother at the 120th day when she starts nursing the soul." We nurture and love the mother, who in turn nurtures and loves the child, co-creating a more loving and peaceful future for us all.
Adi Shakti Mantra by Snatam Kaur
Kewal K. Khalsa
Mother, Midwifery Assistant, Yoga Teacher
YogaAndBirth
Recommended: Divine Birth (CD) by Snatam Kaur and Bountiful, Beautiful, Blissful: Experience the Natural Power of Pregnancy and Birth with Kundalini Yoga by Gurmukh
Navigate Your Day with Grit & Grace
Get a Free Yogi Lifestyle e-Mint, Plus a Twice-Monthly Musing Delivered to Your Inbox