in depth
05-Jun-2011
Attune to Intimacy
Heal Your Second Chakra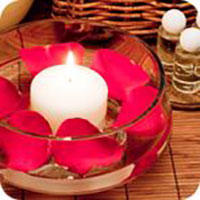 Your second chakra is home to your most intimate feelings and thoughts. Located between the sacrum and reproductive organs, this energy center supports your ability to express feelings of intimacy, self-love, passion and the physical aspect of sensual expression. Ruled by water, this chakra is most closely attuned with your emotions and also guides reproduction, enthusiasm and creativity of the soul.
While your second chakra is closely related to the throat chakra and expression, on an emotional level it deeply connects to your heart chakra. When you feel heartbreak, particularly with a loved one, you may tend to withdraw your intimacy. One of my favorite poses to balance the sacral chakra is Supta Baddha Konasana (reclined bound angle pose or Goddess Pose). This pose activates the sacrum, while opening the heart to expansion and forgiveness.
A wonderful way to balance your second chakra is to use some aromatherapy with Goddess Pose. Set out a clear glass bowl of water and add a few drops of the following essential oils: neroli for enthusiasm and intimacy, clary sage for emotional expression and sandalwood for sensual expression. Light a few candles and set them around the bowl to create a dance of light through the water.
Sitting upright on the floor with an elevated bolster or sturdy pillow behind you, lean back, bend your knees and relax them down to each side while bringing the soles of your feet together. You should feel a gentle stretch in the groin and hip area. If there is too much of a stretch, put a folded blanket under each knee. Lay your arms at your sides, palms up.
As you relax, take a deep breath, engaging your diaphragm. Open your heart and expand your breath into your shoulders. As you exhale, relax your face and shoulders as you pull your feet a little closer into your groin. Continue breathing deeply as you imagine water flowing through your body, bathing you in the divine ability to express and protect your feelings. Repeat the following: "I love all aspects of myself. I delight in the creation of all that is in my life." Let the goddess in you be healed and uplifted!
Jess Lewis-Peltier
Naturopathic practitioner, writer, lecturer and yoga teacher
Holistic Yogini
www.chakrabalm.com
Video demonstration: Goddess Pose
Recommended: The Fragrant Mind: Aromatherapy for Personality, Mind, Mood and Emotion
by Valerie Ann Worwood
Navigate Your Day with Grit & Grace
Get a Free Yogi Lifestyle e-Mint, Plus a Twice-Monthly Musing Delivered to Your Inbox