in depth
15-Apr-2012
All Hail Asparagus
A Healthy, Seasonal Treat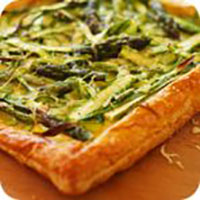 Asparagus is thought to have originated in the Eastern Mediterranean region, but now grows—both wild and cultivated—all over the world. Enjoyed by humans for thousands of years, asparagus has been used in medicine for its diuretic properties. Emperor Augustus was said to have reserved a fleet for shipping asparagus and King Louis XIV of France had a greenhouse built for growing it, calling it "The King of Vegetables."
Spring is the perfect time to find fresh asparagus at the grocer. Look for smooth, rich green stalks that are firm with tightly closed tips as these are the freshest and will have the best flavor.
Enjoy your asparagus right away as it becomes more wood-like as it loses its freshness. Cut or break off the fibrous ends to enjoy the tasty spears. To preserve the nutritional value of your asparagus, avoid over-cooking. Try steaming lightly or roasting it and seasoning it with garlic, olive oil, sea salt or lemon.
This vegan asparagus tart looks fancy, but is a quick-and-easy recipe to prepare and delicious as an appetizer or as a main course served alongside a leafy green salad. In place of heavy cheese, frequently used in similar recipes, this tart has a lovely savory layer of cashew-based vegan ricotta "cheese." It's fancy enough for company so gather with friends and toast to the sunny spring days. You won't be able to get enough of this tasty dish!
Vegan Asparagus Tart with Cashew "Ricotta"
1 sheet of prepared puff pastry, thawed as directed
1 batch of cashew ricotta (see recipe below)
1½ pounds of fresh asparagus, washed
Salt and pepper
Olive oil
Preheat oven to 400 degrees F (204 degrees C). Roll out the puff pastry sheet into a large rectangle on top of a piece of parchment paper; then transfer to a baking sheet along with the parchment. Trim or fold over uneven edges and pierce the pastry in several places with a fork. Bake until golden, about 10 minutes.
Remove the pastry from the oven and spread with an even layer of cashew ricotta. Arrange the asparagus in an even layer over the ricotta, alternating ends and tips. Lightly brush the asparagus with olive oil and season with salt and pepper. Return to oven and bake until asparagus is tender, about 20-24 minutes.
Meyer Lemon Cashew "Ricotta"
1½ C raw cashews, soaked 2 hours or up to overnight in water then drained
¼ C water
2 t Meyer lemon juice
½ t Meyer lemon zest
2 T nutritional yeast
½ t sea salt
Place all ingredients in a food processor or blender and process until smooth. Add more water, if necessary, to adjust consistency. As it rests it will thicken.
Allison Brewer
Mother of two, writer, vegetarian, and aspiring triathlete
GetNatured.com
Recommended: Local Flavors - Cooking and Eating from America's Farmers' Markets by Deborah Madison
Navigate Your Day with Grit & Grace
Get a Free Yogi Lifestyle e-Mint, Plus a Twice-Monthly Musing Delivered to Your Inbox