in depth
08-Jul-2012
411 on Inflammation
Nutrition for Life - Part I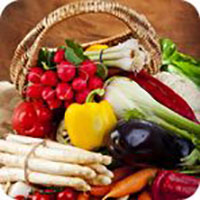 Each person has a unique set of muscle cells, sleep patterns and hobbies. Some of us are runners, yogis, surfers, skiers, writers or travelers. Why would we all eat the same food? Your body successfully digests certain foods based on your blood type, ethnicity, childhood eating habits and your digestive strength. These factors also shape what foods you cannot break down due to food sensitivities and dietary issues caused by chronic inflammation.
More and more, people are becoming aware of the impact of inflammation and food allergies. In this series we will explore the impact of various foods on your body. My goal is to provide you with tools, tips and guidelines to identify and minimize food sensitivities. You can learn to keep chronic inflammation at bay and, in turn, feel strong and healthy each day.
Undigested food causes inflammation. The small intestines swell, protecting your blood stream and organs from toxins. Sugar also causes inflammation; when it enters the bloodstream, insulin (the sugar regulator) causes a release of inflammatory agents to the digestive tract. This slows down sugar absorption.
Chronic inflammation, correlated with consistent sensitivity to gluten, soy, wheat, dairy and sugar, disrupts natural bowel movements and prevents your body from absorbing the necessary nutrients to keep you healthy.
Here's an example of a healthy meal that may contain hidden inflammatory foods. For lunch, you enjoy a baked tofu sandwich with honey mustard, tomatoes and bean sprouts on a whole wheat bun. The sandwich contains protein from the tofu, vitamin A and K from the tomato, and folic acid, iron and zinc from bean sprouts. Unfortunately, you may not be aware that you have a gluten sensitivity or that there are 16 grams of sugar in the honey mustard.
If you eat this way on a regular basis, you subject your digestive tract to chronic inflammation and your body is not able to fully absorb the key nutrients in your sandwich. The good news is that you can make adjustments to your diet to support your body's dietary needs and reduce inflammation.
Try this healthy, anti-inflammation Asparagus and Cucumber Salad with Vegan Lemon-Ginger Dressing—it is sure to brighten up your lunchtime plate!
Skylor Powell
Health Coach and Yoga Instructor
Sprout Health Lifestyle
Recommended: The Anti-Inflammation Diet and Recipe Book by Jessica K. Black and Yogi Tea – Stomach Ease
Navigate Your Day with Grit & Grace
Get a Free Yogi Lifestyle e-Mint, Plus a Twice-Monthly Musing Delivered to Your Inbox