cosmic corner
14-Apr-2011
Royal Diamonds
Gems of Purity and Light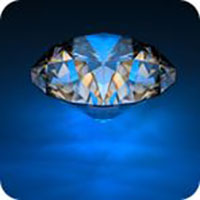 Since ancient times, diamonds were believed to exert favorable influence on the owner, providing strength, courage and invincibility. It was the talisman of Julius Caesar, Louis IV and Napoleon. Queens, princesses, princes and Maharajahs have adorned themselves with diamonds. Diamonds represent a highly-prized symbol of status, luxury and purity in today's world. Couples often choose diamonds as the symbol for eternal love and commitment in marriage.
The white light of the diamond is the perfect balance of all colors, in which all the components work together to produce energy in its purest state, bringing clarity, creativity and ingenuity. A diamond allows the soul light to shine out, aiding your spiritual evolution and reminding you of your soul's aspirations. Diamonds act like an amplifier, refracting the entire light spectrum. If the wearer has good intentions they amplify goodness; if combined with another gemstone or crystal they will amplify the energy of that gemstone or crystal.
On a physical level, diamonds purify all the body's systems, rebalancing the metabolism, building up stamina, strength, treating allergies and chronic conditions. (For best results, have the diamond set so it touches the skin.) Wearing diamonds offers the same benefits as wearing white. Yogi Bhajan said, "Wearing white clothing triples one's aura and widens it up to 27 feet. White clothing makes you look divine…it is good for your psyche, for your energy, and for your nervous system. Your way of dressing should be saintly and make you glow with grace." So wear some white diamonds today!
Joel Darshan Ingwaldson
Sacred Bauble
Recommended Read: Love is in the Earth: A Kaleidoscope of Crystals by Melody or Diamonds, Third Edition (Gem Book Series)
by Fred Ward