cosmic corner
09-Jun-2011
Heaven-Sent Stone
Regal Blue Sapphire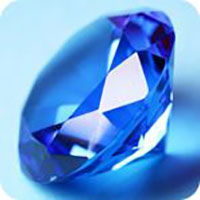 It's believed that Moses was given the Ten Commandments on a plate made out of sapphire, which makes this gemstone one of the most sanctified of all semi-precious and precious stones. Sapphires are revered as divine gemstones, highly desired by royalty and aristocracy as well as by high priests. The British Crown glitters with large blue sapphires, symbols of a pure and wise reign. They help to bring wealth, name and fame to the wearer.
Blue sapphires are associated with the throat chakra. When this chakra is out of balance you may feel emotional, shy or disempowered. On the physical level you might experience sore throats, TMJ or have imbalanced thyroid function, which can affect your metabolism and weight.
Blue sapphires help to open and heal the thyroid and the throat chakra, assisting in communication, expressing your truth and beliefs. This gemstone supports you to stay on the spiritual path, releasing blockages and providing strength.
If the healing energies of blue sapphire intrigue you, try this Kundalini Yoga kriya Kantha Padma Kriya ("Lotus of the Throat"), immediately followed by chanting the mantra "Sat Nam, Sat Nam, Sat Nam, Sat Nam, Sat Nam, Sat Nam, Wahe Guru" for 31 minutes. Do this combination for 40 days. During the 40 days be sincere and truthful. It will open the power of Vach Siddhi—the power of your word, one of the yogic treasures.
Joel Darshan Ingwaldson
Sacred Bauble

Recommended: Love is in the Earth: A Kaleidoscope of Crystals by Melody and Rubies & Sapphires, 4th Edition
by Fred Ward