cosmic corner
01-Feb-2012
Crystal Medicine
Stones for Healing Depression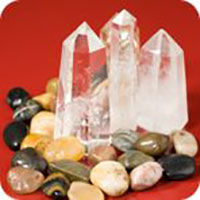 Crystals are strong allies in the remediation of emotional issues, including depression. Crystal therapy enhances healing, especially in conjunction with meditation. If you are ready for change and believe you are open, it's time to begin the process.
To help clear out negativity when stress or depression creeps into your life, I recommend placing some black tourmaline (or black stones like black calcite or smoky quartz) around your bed—near the head and foot of your bed. Black tourmaline is a strong stone for protection and grounding and can help create a positive energy.
You can also wear a black tourmaline bracelet or a pendant for a few weeks. Then, switch to citrine (to heal fear and anxiety) and rutile quartz, amazonite and green calcite for their healing properties. Replace the black tourmaline pieces near the bed with clear quartz or amethyst. In crystal therapy, yellow and green stones relate to the third and fourth chakras, where the pure light of divine love can heal all sorrows.
An ideal mudra for depression is Rudra Mudra. Place the tip of the thumb, index and ring fingers together. Rudra is an aspect of Shiva, known for his great authority. This mudra promotes the recuperation of your personal power. Wearing a mala or bracelets made of red jasper or rudraksha seeds aids blood circulation and gives you the will to protect yourself.
It's great to take a walk in nature with your crystals and to meditate with them as well, to get a new lease on life. You have the power to heal yourself—invite the crystal stones to help you maintain balance in your mind, body and spirit and imbue you with their crystal medicine.

Crystals and Mantra (271 KB)
Agnidevi Agnese Mandetta
Crystal Therapist, Reiki Master, Yogini
Crystal Yoga by Agnidevi
Recommended: The Healing Crystal First Aid Manual by Michael Gienger and Yoga for Depression: A Compassionate Guide to Relieve Suffering by Amy Weintraub